NEWS
On The Road With Lifehouse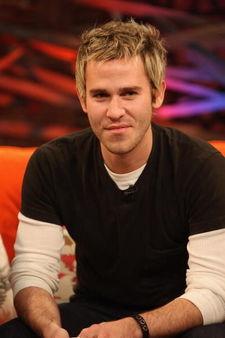 Lifehouse rolls into Binghamton, N.Y., to play Binghamton University tonight.
Frontman Jason Wade, 27, opens up about life on the road with bandmates Rick Woolstenhulme Jr. and Bryce Soderberg.
How do you get pumped for a show?
Usually me and the guys hang out on the bus. We'll watch a little TV, and usually 15 minutes before we go onstage we get quiet and get our heads in the right space. Five minutes before we go on, we get each other all pumped up by listening to other bands' music or watching an inspiring movie. It's different every time.
Article continues below advertisement
What's the most unusual item on your rider?
It's not unusual but we have a lot of Red Bull on our rider because it's hard to sleep on the bus sometimes. When you're lagging throughout the day, Red Bull helps pick us up when we get to the soundcheck time because our sleeping times are so strange. We'll get offstage at 12:00 and won't get to sleep until 3:00 or 4:00 and sometimes we have to wake up and do radio. You just have to get sleep wherever you can and then Red Bull helps to pick us up.
How do you and your bandmates bond on the road?
Usually on days off -- it's funny because a lot of bands don't hang out together on days off -- but the three of us are really close friends. We try when we can to go out to a nice dinner and hang out and chill on days off. That's the most meaningful thing to us because the food we get on the road sucks. It's nice to be able to have a nice dinner every once in awhile and just hang out.
Article continues below advertisement
Our favorite is Morton's Steakhouse. Whenever we can find a Morton's Steakhouse, we always go there.
How do you avoid getting on each other's nerves?
Me and Rick, the drummer, have been playing together for eight years now and I think that we know each other so well, we know when one is tired or irritated and we know when to give each other space. That's the main thing, to not cross the boundaries when you feel that someone is cranky or irritated.
How do you relax?
Usually watching TV or watching a movie. When I'm not doing that, I'm playing my guitar. Writing on the road is really relaxing for me too, to come up with new stuff.
One thing you can't live without?
My Elliott Smith music collection. He inspires me. Whenever I get down or need a pick-me-up, those records totally inspire me. Whenever I'm in a slump with my songwriting, I can always put on XO or Figure Eight, and they put me in a different space.
What's the most gratifying thing a fan has ever said?
There's a song we had on our first indie record, called Storm, that a lot of the fans have been connecting to. There were these two girls made these big signs that had the name Storm on it. They wanted me to play it but we haven't played it for years and I felt bad that we weren't doing it that night because she was crying. After the show, we do the signing for the fans afterward, and she was the last person in the crowd and she came up and basically came up and said she was suicidal, she was on all these pain medications and that song helped her get through a really tough time. I grabbed an acoustic guitar and just played it for her in the dressing room and she just balled. When something like that happens – that a song can actually be meaningful to someone's life – that's the best compliment ever for a songwriter I think.