NEWS
Rob Kardashian Wants to "Step Out Of" His Sisters' Shadows on 'Dancing With the Stars'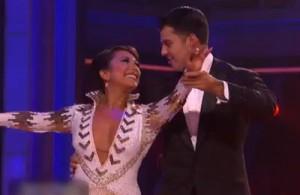 Rob Kardashian may not be the first Kardashian to hit Dancing With the Stars, but he certainly plans to make a bigger name for himself on the hit ABC competition than sister Kim Kardashian did. Rob delivered with his debut performance last night, with mom Kris Jenner, sisters Kim Karadashian, Kourtney Kardashian, Khloe Kardashian Odom and stepdad Bruce Jenner cheering him on from the sidelines.
"I want to step out of the shadows of my sisters," Rob said in his introductory clip before performing the Viennese Waltz with Cheryl Burke, which got a standing ovation from his family!
Article continues below advertisement
But leave it up to Khloe to give him a harsh critique from her seat.
"Clean your ears so you can hear the music," she screamed across the dance floor.
"I know she's a tough mistress… but you've got to relax," Bruno Tonioli warned.
"I'm not impressed but I'm not depressed, it was too careful," Len Goodman advised.
But Rob had a fan in female judge Carrie Ann Inaba.
"A little rigid but it's all there," she shared.
Backstage, Rob told reporters that having his sisters there to watch him made him "comfortable."
"Having them out there going, 'Smile, smile' right before I went on," he said.
Rob wants his sisters there every week, but he knows they are super busy.
"They work a lot so I'm hoping they will be," he said. "I like the support of having my family. It means everything."
MORE ON:
Kourtney Kardashian
OK! NEWS: THE KARDASHIAN SISTERS — THE BABY RUSH IS ON
As far as weight loss, Rob shared that he was starting to work out after our rehearsals, but he stopped.
"I'm trying to eat better. That's my main problem is eating after rehearsals," he said. "I'll go get pizza and ice cream every night. Yeah, I've got to change all that."
Catch Rob's performance, via ABC, below!
Reporting by Amanda Champagne