NEWS
Rob Kardashian's Ex Rita Ora Debuts Another Famous Boyfriend!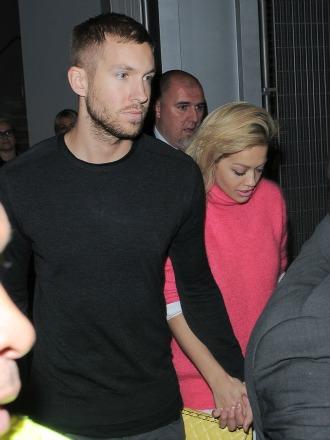 British It Girl—and ex of Rob Kardashian—Rita Ora made a major announcement last night in the form of some public hand-holding with a fellow musician, Calvin Harris. The two were photographed together not leaving an incredibly cool club, but instead arriving at the movies for a little date. How sweet is that!
Watch: Rita is collaborating with one of her BFFs on her debut album! See who it is.
Rita, 22, is a singer and protege of Jay-z. She hasn't quite made it big in the U.S. just yet, but she is enormous in the U.K., where she was recently nominated for three BRIT Awards (like their Grammys). She dated Rob Kardashian on and off, and their bitter break-up in December 2012 caused the reality star to have a Twitter meltdown in which he accused her of cheating on him with 20 men. Ouch.
Article continues below advertisement
Watch: Rita Ora responds to the Rob Kardashian drama!
Calvin Harris, meanwhile, is known around the world for anyone with ears—he's the Scottish DJ who has produced songs like Rihanna's "We Found Love" and "Where Have You Been," as well as other club-bangers like "Feel So Close" and Ne-Yo's "Let's Go." Maybe a collab with his new lady love will be just what she needs to breakthrough!
What do you think of this new couple? Do you like them together? Are you a fan of Calvin Harris? Tell us in the comments below or tweet us @OKMagazine.