NEWS
Rob & Kristen: Split!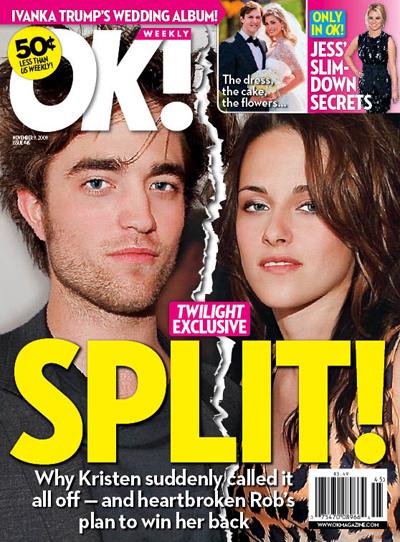 Kristen Stewart and Robert Pattinson: Split! Exclusive coverage of why Kristen suddenly called it all off — and heartbroken Rob's plan to win her back.
CLICK HERE TO CHECK OUT ALL OF OK!'S TWILIGHT NEWS AND PICS!
Ivanka Trump and Jared Kushner: Details of the elegant star-studded nuptials of real estate royalty's most recognizable duo.
Jennifer Aniston Exclusive: OK! brings you the inside story of the star's recent trip to an orphanage in Mexico — and the plans she's making to become a mom.
READ EVERYTHING YOU NEED TO KNOW ABOUT JEN ANISTON HERE!
Jessica's Slim-Down Secrets: Harley Pasternak — trainer to stars like Jessica Simpson, Lady Gaga and Alicia Keys — reveals the secrets to staying fit despite a busy schedule.
Plus: Chris Brown mixed messages to Rihanna. Russell Brand's electric birthday gift to Katy Perry. An exhaustive investigation into Angelina Jolie's hugging habits. And Mad Men-inspired beauty secrets.
Article continues below advertisement