NEWS
Rob & Kristen's Cheap New Year's Eve Celebration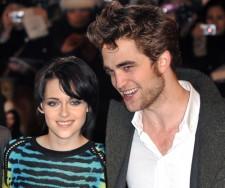 How much of a cover would you pay if you could party with Robert Pattinson and Kristen Stewart on New Year's Eve? Your life savings? Well, for the lucky locals of Ventnor on the Isle of Wight, they only had to pay $5!
Hollywood Life exclusively reports that Robsten spent New Year's Eve at Winter Gardens, a dive bar on the Isle of Wight.
The laid-back scene allowed these Twilight lovers to be friendly with locals while enjoying the music from the bar's five guest deejays.
Article continues below advertisement
"Rob and Kristen were totally normal," a Winter Gardens goer said. "They acted like regular people and blended in with the regulars."
The bar charged its 130 guests, ranging from 20 to 40 years old ,only $5 at the door to attend the celebration.
And shots? Only $1.50 each!
"People could come out here and get drunk as a skunk for cheap," Dave, the manager of Winter Gardens, said. "Everyone was so drunk, that even though we had the license to go all night, we had last call at 1:30 a.m.!"
Dave was glad Rob and Kristen's presence didn't make the party out of control.
"The deejays got paid. The bartender got paid. It was excellent," he said. "It was really no trouble at all, just a good time."
What did the locals think about Robsten crashing their party?
"I cannot believe there were celebrities right here at Winter Gardens!" a Ventnor local said. "Maybe we'll be put back on the map!"
Before Robert and Kristen the big celeb to visit was Queen Elizabeth II who visited the area... back in 1965!