NEWS
Robert De Niro Acceptance Speech Too Offensive?: Actor Tackles Immigration & Megan Fox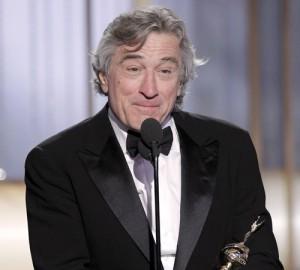 Ricky Gervais wasn't the only person bulldozing over the lines of political correctness at last night's Golden Globes. To the surprise of many, Robert De Niro delivered a somewhat offensive speech during his acceptance of the Cecil B. DeMille Award. The veteran actor was honored for his extensive career, but dropped some jaws while thanking the Hollywood Foreign Press for his lifetime achievement recognition. What did he say that has everyone talking?
Article continues below advertisement
"I'm sorry more members of the foreign press aren't with us tonight, but many were deported right before the show along with most of the waiters. And Javier Bardem," the actor quipped as the audience grew noticeably uncomfortable.
OK! NEWS: RICKY GERVAIS GOLDEN GLOBES 2011 — COMIC HITS HOLLYWOOD HARD IN OPENING MONOLOGUE
Robert continued warning the audience to watch out for "homeland security who will be checking papers, after they are done with the full body scan of Megan Fox."
The actor has since explained he was going for comedy, and not for blood.
"I thought this would be more fun for this kind of evening," he said via the Hollywood Reporter.
Following his award, Robert hit the press line without his statuette because the top fell off. Karma?
Catch the speech below. Do you find it too offensive, or all in good fun?