NEWS
Robert De Niro Speaks Out Against Donald Trump: "How Dare You?"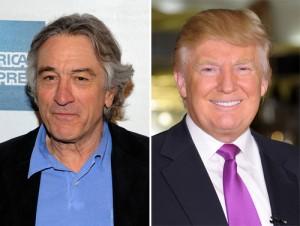 At the Tribeca Film Festival in NYC on Saturday Night, Robert De Niro chatted with NBC Nightly News anchor Brian Williams about how he is frustrated by contemporary politics. And much of his anger seemed to be aimed at Donald Trump!
OK! GALLERY: RYAN PHILLIPPE, ROBERT DE NIRO & MALIN AKERMAN BRING THE BANG BANG CLUB TO NYC
"I think of the possibility of the government being shut down, and I say, 'How did we get to this point?' " Robert said (according to Movieline). "I remember it happened years ago. And I just say, 'How did we ever get to that point?' Because the people who suffer are the ones who have jobs where, every week, they've gotta make these payments. How did we get there? What is this about? This is crazy."
Article continues below advertisement
"And I know President Obama was trying to bridge the gap. His intentions are really good," he explained. "Maybe some things are not as good as we all would like, but his intentions were right. A lot of these guys, their intentions are not even good. They're just playing the game. And they're playing with people's lives."
"A lot of people believe that this is as far apart as the two ideological sides of our country have been," Brian said. "We keep saying that, and then a month later, they break their own pledge, and they get even further apart. Do you ever see it coming together? As I like to put it to people, if 9/11 didn't do it — if 9/11 didn't leave us more unified — what would?"
"Well, we're unified in certain ways in this country, and in certain ways we're not, to me," Robert said, adding that he's confused by certain Republicans who talk "a lot of nonsense."
Article continues below advertisement
"I won't mention names, but certain people in the news the last couple weeks, just, what are they doing?" he asked. "It's crazy. They're making statements about people that they don't even back up. Go get the facts before you start saying things about people."
According to Huffington Post, Brian asked Robert if "any of those people have shows on my network on Sunday night?" And Robert confirmed that he was talking about Donald.
"It's like a big hustle. It's like being a car salesman. Don't go out there and say things unless you can back them up," Robert said. "How dare you? That's awful to do. To just go out and speak and say these terrible things? Unless you just wanna get over and get the job. It's crazy."