NEWS
Robert Downey Jr on Gwyneth Paltrow: "I Couldn't Get Her Off of Me"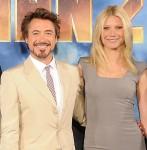 Gwyneth Paltrow was the subject of Robert Downey Jr's superhero-sized sense of humor as he described their Iron Man love scene.
"I couldn't get her off of me. It was embarrassing," he said about their onscreen clinch at a press conference on Friday, reports E! Online.
OK! NEWS: CAST OF IRON MAN 2 HITS HOLLYWOOD
Gwyneth has a different version of events:"It was great because both my husband Coldplay's Chris Martin and his wife Iron Man 2 executive producer Susan Downey were right there."
Article continues below advertisement
Robert let slip further details about Gwyneth — who plays uber-efficent Pepper Potts — during the scene.
OK! VIDEO: SCARLETT JOHANSSON'S IRON MAN 2 INTERVIEW
"She said to me that I didn't know what I was doing, like it didn't feel good," he said. "I'm like, you know what? First of all, we're all friends, so what would be creepy would be if I was coming off all sexy to you — which by the way, I've done that in movies and it creeps them out. So what am I going to creep you out for?"
Mom-of-two Gwyneth laughed him off, but Robert, who plays businessman Tony Stark, added: "Despite what she said on set, she still thinks about it."