NEWS
Robert Downey, Jr. & ScarJo Get Fit for Iron Man 2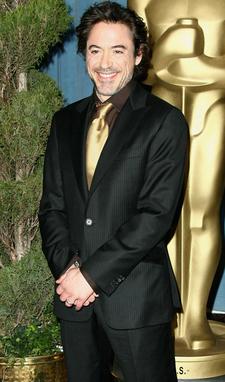 Sure, Iron Man may have saved the world, but more importantly, he's whipped two of Hollywood's hottest hotties into amazing shape.
The star of last summer's hit movie, Robert Downey, Jr., told Entertainment Tonight that he is being forced to transform from the "skinny Brit" he plays in Sherlock Holmes into the "Beefcake Charlie" he plays in the second installment of the super-hero flick, tentatively set for release in the spring of 2010
Article continues below advertisement
And not only that, but he reports that his Iron Man 2 co-star Scarlett Johansson is also in "insane shape" for the sequel.
"We've been rehearsing and she's in insane shape. She's getting lean and mean," he said of the new Mrs. Reynolds, who will play femme fatale Black Widow in the second installment.
As for RDJ himself, he's now on a diet that while change his physique from Sherlock's helper, Watson, into Iron Man alter-ego Tony Stark.
"I'm on Beefcake Charlie status," he jokes. "I've got to not be the skinny Brit anymore. I have to be the Tony that you know and may have loved," he told the show during and interview about his latest film, The Soloist.
Check out Entertainment Tonight on April 3 for more Robert Downey, Jr.!