NEWS
Robert Pattinson Calls Kristen Romance Rumors "Ridiculous"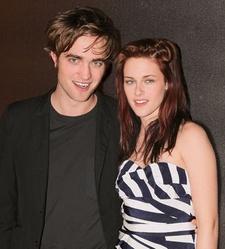 Perhaps it's just collective wishful thinking on the part of Twilight fans everywhere, who would just love for the romance between Edward and Bella leap off the silver screen and into real life. Unfortunately, says the film's hunky star Robert Pattinson, it's just not meant to be for him and on-screen gal-pal Kristen Stewart.
"It becomes a joke," the dreamy-eyed Brit tells Entertainment Tonight in an interview slated to air on Friday. "There was some magazine the other day about me and Kristen and when you look at it and realize it's on the front of a magazine… You realize that people are actually reading that even though how ridiculous it is. It's really bizarre."
Article continues below advertisement
In fact, all the sudden attention about Rob's love life has turned him into a "paranoid wreck" about how to handle a new relationship. "I'm always really worried about ruining their lives," he explains. "Especially with people that aren't famous. It's such a massive change."
To check out the entire interview, be sure to tune into ET on Friday night!