NEWS
Robert Pattinson "Embarrassed" By His Bad Sex Scene With Reese Witherspoon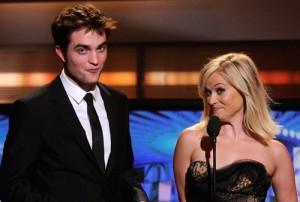 Tons of girls dream of sharing their own intimate scene with Robert Pattinson. So when Reese Witherspoon said the one she shared with Rob in Water for Elephants wasn't that great, the Twilight star got a little embarrassed.
OK! GALLERY: REESE WITHERSPOON HANGS WITH PALS IN BRENTWOOD
In Water for Elephants, Rob and Reese's characters fall in love and share a love scene.
Unfortunately for both Rob and Reese, Rob had a bad cold the day of filming.
Article continues below advertisement
"It wasn't appealing," Reese told MTV News of Rob's runny nose. "It wasn't pleasant."
And Reese's negative comments about her sex scene with Rob got back to the Twilight heartthrob!
"Listen, I had a cold and kept apologizing to Reese, who has since revealed to the press that I had the worst sinus infection when I was kissing her," Rob recently explained to the Chicago Sun-Times. "She has said, 'He was just sniffing all the way through.' I guess that was her response to, 'Reese, you're the envy of so many girls.' "