NEWS
Robert Pattinson Gets Sketchy for FAME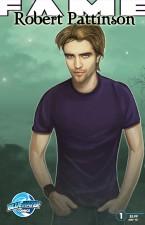 We all know our beloved Robert Pattinson as Edward Cullen from the Twilight films, but Robert the person we're still trying figure out. Now, Bluewater Productions is giving us FAME: Robert Pattinson the comic book. Not Edward — all about Robert!
Yes, Twi-hards, there's more to R-Pattz than his good looks! Rob is an accomplished musician, a former model and an actor outside the Twilight world.
The 32-page Bluewater Productions biographical comic will outline R-Pattz's career from his first performance in Tess of the D'Urbervilles at London's Barnes Theatre to his lead role in the Twilight films.
Article continues below advertisement
CLICK HERE FOR ALL OF OK!'S ROBERT PATTINSON NEWS AND PHOTOS!
In May, they'll ship FAME: Robert Pattinson to comic book shops and retailers across the country.
"I love having the ability to introduce high-profile people to readers through an unexpected medium that is both written and visual," writer Kim Sherman said. "These biography comics are designed to illustrate interesting tidbits to fans about their favorite figureheads, and inspire them to learn more. I chose to conceptualize A-lister Robert Pattinson from a unique perspective, immersing the reader into the life of the talented actor beyond his most famous role."
VIEW A GALLERY OF ROB BEFORE HE APPEARED ON THE HOPE FOR HAITI TELETHON!
Interior artist Nathaniel Ooten is one reader who gained a new appreciation for Rob and his career after reading Kim's script.
"Working on this book has opened an entirely new level of Rob Pattinson for me," Nathaniel said. "Before starting, I was only aware of the 'teenage vampire' Pattinson. After reading the script, studying the subject and listening to his music, I not only became very interested in Pattinson's future work, but also discovered a new appreciation for this 'teenage vampire.'"
Article continues below advertisement
OK! NEWS: ATTENTION TWI-HARDS, MEET TWILIGHT: THE GRAPHIC NOVEL
The president of Bluewater Productions, Darren G. Davis, expects Rob's biography to be as popular among Twilight fans as was the comic biography published in November of 2009 of writer Stephenie Meyer, which sold out of several printings.
"Twilight fans want to know everything about the talented people who have brought them the story of Edward and Bella," Darren said. "I'm pleased to be able to bring them Robert Pattinson's story. It's our hope that even the most devoted fans will discover a fact or two that takes them completely by surprise."