NEWS
Robert Pattinson Gushes About Kristen Stewart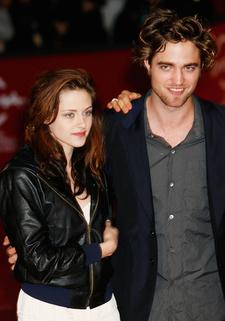 So he thinks she's smart, talented, cool and he felt a "certain chemistry" around her.
Is it just us, or does it sound like Robert Pattinson didn't have to do a whole lot of acting in his sizzlingly love scenes with Kristen Stewart for Twilight?
Kristen may be with actor Michael Angarano, but that didn't stop her hot British co-star gushing about her in a new interview on Premiere.com.
"She's basically the reason I did the movie," Robert explains. "When I got into the room with Kristen, there was just a certain chemistry. And she's just very smart. She's really the best actress of her generation."
Article continues below advertisement
Whoa! Don't hold back Robert!
"I'd seen the run of movies she'd done. She's 18, but it just seemed unnecessary for her to do any of that silly teen movie stuff," he told the Web site.
"Even the movies that are supposed to be aimed at teens, she gets out of it not looking like she's in a teen movie. I thought she'd fight to make Twilight as serious as possible. She's a very cool person to work with," he said.
And watch out Zac Efron — because Robert's coming for your spot as the top teen movie idol.
When the site asked Robert if he thought he had taken the High School Musical star's place as the "heart throb du jour", he said:
"I don't think I quite have," before adding, "yet".
Just in case you've been living under a rock, Twilight hits theaters on Nov. 21.