NEWS
Robert Pattinson Hopes to Win MTV's Best Kiss Award Again: "I'm Still Good at Kissing!"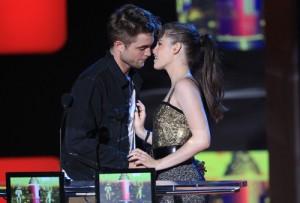 Article continues below advertisement
So what's Rob's secret to winning?
"I don't know. I mean — I thought I won it three times!" Rob told MTV News UK. "Did I win it three? It's kind of terrifying if you suddenly stop winning it, you're like 'Oh God!'"
OK! NEWS: MTV BEST KISS — KRISTEN STEWART WITH ROBERT PATTINSON OR TAYLOR LAUTNER?
"It's almost worse than if you stop winning, like, acting awards or whatever," the 24-year-old star added. "If you can't kiss anymore, it's like, 'What?! I'm still good at kissing!'"
To that we say: Prove it, Rob!
The past two years we've watch Rob and Kristen win, but never kiss on stage! Yes, we've seen it in the Twilight films. But if he wins for The Twilight Saga: Eclipse this year we hope he proves to us he's good at kissing!
We're dying for Rob and Kristen to have their Notebook moment at the awards! Do you think it's possible to top?