NEWS
Robert Pattinson & Kristen Stewart's Romantic Breakfast in Bed in NYC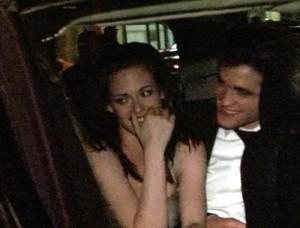 It was a quick trip to the Big Apple for Robert Pattinson and his supportive girlfriend Kristen Stewart for the premiere of Water for Elephants Sunday night, but the couple made the most of their time together – deciding to relax at their hotel and order room service before work obligations.
OK! GALLERY: WATCH ROBERT PATTINSON KISS KRISTEN STEWART AT WATER FOR ELEPHANTS PREMIERE
Following a late night celebrating at the premiere's after party at New York hotspot Le Cirque, the couple returned to their suite at the Mandarin Oriental. Robert and Kristen stayed in bed as long as possible Monday morning and ordered room service for breakfast. "They ordered blueberry muffins and orange juice," a source tells OK!.
Article continues below advertisement
The couple had plenty of reason for wanting to stay in. Rob told reporters they'd stayed up late filming the final scene for Breaking Dawn until 1 a.m. the day of the premiere and took a red eye from Vancouver to New York.
Kristen skipped the red carpet and instead sneaked in the back at the Ziegfeld Theater to take a seat inside next to the leading man. Despite having to watch her boyfriend's on-screen love scenes with his gorgeous co-star Reese Witherspoon, Kristen didn't seem to mind and photographers caught the lovebirds having a few sexy smooches of their own after the premiere in the car. No wonder they didn't want to leave their room!
OK! GALLERY: ROBERT PATTINSON & REESE WITHERSPOON BRING WATER FOR ELEPHANTS TO NYC
Breakfast with Kristen in bed isn't the only nice thing about NYC that Rob loves – he also loves the fans.
"There are a bunch of people outside who always come to anything I do in New York and it's really nice," Rob told reporters.
To show his appreciation, OK! spotted Rob showing up an hour early at the premiere to sign autographs and take pictures with fans. He's nice and low-maintenance? Kristen's a lucky girl!
Additional reporting from Evan Real and Jessica Summers