NEWS
Robert Pattinson MIA in "New Moon" Soundtrack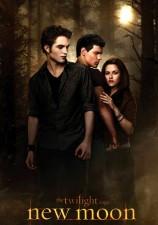 There's good news and bad news for New Moon fans: The good news? The complete list of songs for the soundtrack has been confirmed. And the bad? One key musician from the last soundtrack is not singing again this time: The musical stylings of one Robert Pattinson, who contributed two songs to the Twlight soundtrack, are nowhere to be found.
The soundtrack features nearly all indie music, including the film's first single "Meet Me on the Equinox" by Death Cab for Cutie. New songs from The Killers, Grizzly Bear and Muse are also included. All songs are original and exclusive to the soundtrack.
Article continues below advertisement
The film's first soundtrack featured many somewhat obscure musicians and still went double platinum. This one is also heavy on the smaller indie bands, but will likely fare just as well, unless fans only bought the first soundtrack to hear R-Pattz croon sweetly to them. (Ed. note: We wouldn't be surprised).
The good news is that at least Rob graces the cover! Also, the album will be released Oct. 20, giving fans a full month to memorize all the songs by heart and listen for them in the movie.
The complete Twilight: New Moon Soundtrack:
1. Death Cab for Cutie: "Meet Me on the Equinox"
2. Band of Skulls: "Friends"
3. Thom Yorke: "Hearing Damage"
4. Lykke Li: "Possibility"
5. The Killers: "A White Demon Love Song"
6. Anya Marina: "Satellite Heart"
7. Muse: "I Belong to You (New Moon Remix)"
8. Bon Iver and St. Vincent: "Rosyln"
9. Black Rebel Motorcycle Club: "Done All Wrong"
10. Hurricane Bells: "Monsters"
11. Sea Wolf: "The Violet Hour"
12. OK Go: "Shooting the Moon"
13. Grizzly Bear: "Slow Life"
14. Editors: "No Sound But the Wind"
15. Alexandre Desplat: "New Moon (The Meadow)"