NEWS
Robert Pattinson Says Kristen Stewart's "Fancy Moves" in 'Breaking Dawn' at Fault for R Rating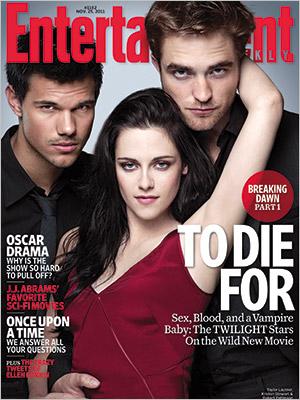 Article continues below advertisement
"In the book, you don't see the actual sex, but they talk about it afterwards and it's intense as hell," Kristen explains. "Shooting the scene wasn't a full experience because it was so fragmented."
Rob adds with a laugh, "And when we did they kept telling us to stop."
"I know!" Kristen exclaims. "Bill Condon kept going, 'Stop thrusting' Laughs.... I mean, I didn't want to actually have sex with him on set but…"
"Why not?" Rob asks while laughing. "You can see my butt crack — why does butt crack not make it an R? You see my butt crack the whole time."
But Taylor Lautner chimed in giving Rob the sad news that, "They shortened it, or I think they erased the crack."
Still, Rob had to bring up again that he blames Kristen for the cuts.
"It was really Kristen's fault it was going R-rated. To Stewart Your fancy moves — no one's seen moves like that in a PG-13 movie!" he says with a laugh. "The thing about ratings is, it's about noises."
Kristen further explains his point, "Like if his thrust coincided with my ohhhh — that's not okay."
Oh, these two. We just can't get enough of them!
The new issue of Entertainment Weekly hits newsstands on Friday!