NEWS
Robert Pattinson Says "Round Female Bottoms Are Very Much a Miracle"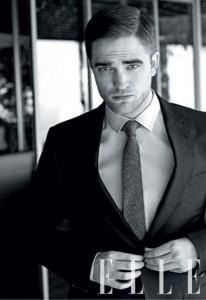 Robert Pattinson just keeps getting hotter with every picture he takes and every interview he makes. Elle magazine asked Rob some really fun questions in a new interview and the 24-year-old British actor gave some great answers — especially about "female bottoms."
OK! NEWS: ROBERT PATTINSON ON BREAKING DAWN SEX SCENE — "IT'S KIND OF INCREDIBLE"
Water for Elephants will be Rob's next film hitting theaters, but he also did finish filming Bel Ami where he plays a journalist who seduces women to make his way to the top.
Article continues below advertisement
"Was it fun playing a ladies' man instead of a celibate?" Elle asked Rob.
"Completely. I thought it was funny as well — Twilight having quite a bit of a female audienc e— to play a guy who basically screws women out of money," he said. "I like the fact that you never hear of a movie where the bad guy stabs every single person in the back and then wins."
"Have you ever fantasized about doing something to destroy the 'Twilight image' of you?" Elle asked the heartthrob.
"You know, when the whole thing dries up and there's hardly any paparazzi around — I don't know, in 15 years or something — I like the idea of just one paparazzo coming out and trying to get a picture, and I just beat the shit out of him," he shared. "I mean — out of nowhere — when my picture's not even worth… and I've spent all my money, so you can't sue me!"
OK! VIDEO: WATCH ROBERT PATTINSON GET FLIRTY IN NEW WATER FOR ELEPHANTS CLIP
Then Rob was quoted a line from Guy de Maupassant, whose novel Bel Ami is based on, and was asked to share his thoughts.
"The essence of life is the smile of round female bottoms, under the shadow of cosmic boredom."
"That is an absolutely true quote," Rob said. "Round female bottoms are very much a miracle."