NEWS
Robert Pattinson Talks Women in Details Magazine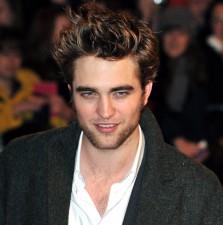 While stealing the hearts of women worldwide playing the sexy vampire Edward in Twilight, Robert Pattinson reveals that what he really thinks of women in the new issue of Details Magazine.
"I really hate vaginas. I'm allergic to vaginas," Robert laughs while on set shooting the March 2010 issue in a spread featuring naked women.
"But I can't say I had no idea, because it was a 12-hour shoot, so you kind of get the picture that these women are going to stay naked after, like, five or six hours. Thank God I was hungover," Robert jokes in Details Magazine.
Article continues below advertisement
With dating aside, Robert is trying to focus on just being fascinating as he discloses what he would be doing if it wasn't for acting,
"I quite enjoyed doing the press for Twilight because there was a similarity. But you'd better have something to say. I felt a responsibility to be fascinating," Robert reveals of wanting to be a speech writer if it weren't for his vampire stardom.
Catch a steamy Robert Pattinson in the March 2010 issue of Details Magazine.