NEWS
Robert Pattinson Tries Not to Drown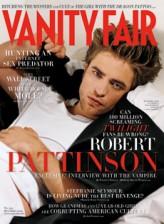 In the December issue of Vanity Fair, Robert Pattinson admits that the level of stardom he's achieved with the Twilight series of movies is more than a little bit scary. "I'm trying not to drown," he admits. "I guess I'm not the type of guy cut out to do a franchise. I'm not much of a crowd person."
Poor R-Pattz! Maybe if he wasn't so handsome and talented — or if his plan to give up acting had actually worked out — he'd still be anonymous.
Article continues below advertisement
"I was going to all these auditions and telling everyone how I got fired from a play in London's West End because I stood up for my principles, and making up all this bullsh-t," he admits in the interview. "I kind of went nuts for a while."
CLICK HERE FOR ALL OF OK!'S ROBERT PATTINSON NEWS & PICS!
Rob reveals that he was surprised that he'd gotten the role of Edward Cullen, as he'd never read the books before the audition, dreaded taking his shirt off and had basically been "getting drunk for a year," but went in "a little more brazen than I would have been in a normal audition."
Afterward, he says, he was sure he'd made a fool of himself.
"I remember calling my parents and saying, 'That's it. I'm not doing this anymore.' And then hearing, 'O.K., fine,' which was not the answer I wanted to hear at all."
As for his co-star Kristen Stewart, Rob has nothing but praise for her acting skills.
"I think she's the best young actress around," he confesses."She's influenced how I've done all the Twilight stuff. It's quite nice to have someone who is genuinely indifferent to the whole spectacle of everything."
Article continues below advertisement
CLICK HERE FOR ALL OF OK!'s KRISTEN STEWART NEWS & PICS!
Twilight's director Catherine Hardwicke has special insight into the co-star's relationship, one that no one else could explain so perfectly.
"What Rob and Kristen had is a multitude of feelings for each other," she says. "Complex feelings for each other. It was what we needed. Complex, intense fascination."
But even with all eyes on him and K-Stew, all the photographs and adoring fans, Rob still doesn't see himself as special.
"I'm unbearably self-conscious about stuff," he admits, adding that he thinks he looks like "a cartoon character," that one of his legs is longer than the other, which makes him look "like an idiot," and that he's a failed model.
"I was such a terrible model. I was really tall but still looked like a six-year-old."
Sorry, Rob, but we bet there are millions of Twi-hards just begging to disagree with you!
R-PATTZ SINKS HIS TEETH INTO JAPAN: