NEWS
Robert Pattinson is Very, Very Single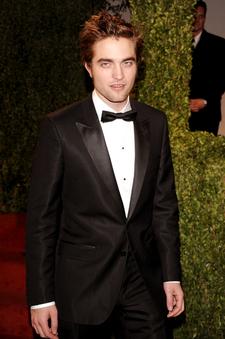 Obsessed fans and Joe Jonas can both rest easy tonight – Robert Pattinson says not only is he not romantically involved with the singer's girlfriend, Camilla Belle, but he also says all dating rumors regarding him are untrue.
"There's literally not a single true story that could be written about me. I never do anything," the Twilight hottie tells GQ in the new issue (with his handsome mug gracing the cover, of course). "There's this thing about my supposed girlfriend. There's this one girl who's consistently mentioned. It's like, 'He's dating this Brazilian model.' What's her name — Annelyse. I've never met her."
Article continues below advertisement
As for his pal Camilla, the gossip buzzing around their alleged romance is also hogwash, and hilarious.
"That's the funniest rumor," tells the magazine. "No. I mean, yeah, yeah, I'm friends with Camilla… It's funny, though, because I met her at her place the other day, and there's a security gate, and even the security woman—I guess she knows that Camilla lives there, and she was like, 'Oooh!' …I mean, Camilla's the nicest—she's a saint. And it's funny that she's being portrayed as this home wrecker. She's literally the most unlikely person to be a home wrecker. It's just ridiculous."
Hey Rob, um, if you're free, want to go out tonight?
<a href="http://www.okmagazine.com/pixandvids/gallery/10422/1" target="_blank"><img src="https://d-images.okmagazine.com/img/photos/large/19585.gif" width="74" height="100"/></a> <a href="http://www.okmagazine.com/pixandvids/gallery/10422/2" target="_blank"><img src="https://d-images.okmagazine.com/img/photos/large/19584.gif" width="74" height="100"/></a> <a href="http://www.okmagazine.com/pixandvids/gallery/10422/3" target="_blank"><img src="https://d-images.okmagazine.com/img/photos/large/19583.gif" width="74" height="100"/></a> <a href="http://www.okmagazine.com/pixandvids/gallery/10422/4" target="_blank"><img src="https://d-images.okmagazine.com/img/photos/large/19582.gif" width="74" height="100"/></a> <a href="http://www.okmagazine.com/pixandvids/gallery/10422/5" target="_blank"><img src="https://d-images.okmagazine.com/img/photos/large/19581.gif" width="74" height="100"/></a>