NEWS
Robert Pattinson's New Sexy Leading Lady's Revenge on Kristen Stewart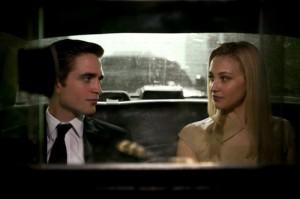 Robert Pattinson's new sexy leading lady is getting sweet revenge on Kristen Stewart. Actress Sarah Gadon first tried out for the coveted leading part in Snow White and the Huntsman — but Kristen snagged her dream role! So what did Sarah do? She landed a part opposite of Kristen's boyfriend Rob, playing his wife in the film Cosmopolis, which started filming in Toronto last week.
While Kristen got the big starring gig as Snow White, Sarah gets to spend all day with Rob for two months straight — and likely share some on screen smooches with the Twilight hunk while they film Cosmopolis together.
Article continues below advertisement
OK! GALLERY: ROBERT PATTINSON SUITS UP ON THE SET OF COSMOPOLIS IN TORONTO
We'd say playing Rob's estranged wife is a pretty nice consolation prize and from the looks of their interactions on set, Sarah and Rob seem to be getting along just fine.
So who is Sarah Gadon?
The 24-year-old Toronto native got her start as a ballet dancer before she began guest staring on teen shows and TV movies such as the Disney Channel's Cadet Kelly, which starred a then 14-year-old Hilary Duff. The past year has been the biggest year yet for Sarah who has three other movies coming up including A Dangerous Method with Keira Knightley and Viggo Mortenson and Dream House with Daniel Craig and Rachel Weisz.
OK! GALLERY: ROBERT PATTINSON DRESSES BUSINESS SEXY ON COSMOPOLIS SET
But it's safe to say playing opposite of Rob in Cosmopolis will be her biggest career highlight yet. The film centers around a day in the life of Rob's character, Eric Packer, a New York stock market multi-millionaire. Cosmopolis started filming May 23 in Toronto and runs through July 21, according to the movie's Facebook page. Snow White and the Huntsman is currently in pre-production.