NEWS
Robert Pattinson's Romantic Woes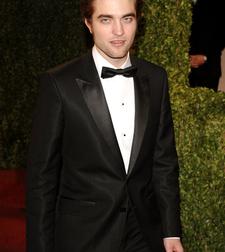 View all comments
So what if he's got millions of girls and women going gaga over his ever vampiric move onscreen in Twilight – poor Robert Pattinson apparently can't get any loving from the ladies in NYC.
The New York Daily News reports that the too-dreamy RPattz was overheard complaining to a friend at Rosebar on Saturday night, saying, "I can't get laid in N.Y.C.," to which his chum chuckled, "A blind person with a British accent could get tail."
Article continues below advertisement
Rob thought that was funny (ha ha we're not laughing on behalf of NYC ladies) and had a good laugh.
Right on cue, a "cute brunette" showed up to pet his ego and most likely reaussure him that yes, he is a handsome movie star who deserves love too.
"I'll be back," Rob told his friend as he walked out, beer in jacket pocket.
More Robert Pattinson: