NEWS
Robin Wright Takes Time To Center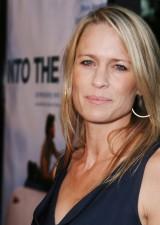 Will Robin Wright Penn return to her Southern roots after her from Sean Penn, her hubby of eleven years?
The blonde beauty, 41, talked about growing up in Dallas when we met up at NYC's Ritz Carlton Battery Park.
"I'm just a girl from Texas," she says with a twang. "They enforce with the belt. The belt would come out if you were not a good person. That was very much instilled in me. 'That's just not right.' You would get whipped if you were not a good person to other people. That's just Southern. Even if you weren't nice to somebody, you'd fake it."
Article continues below advertisement
The couple are parents to daughter Dylan, 16, and son Hopper, 14.
Robin was previously married to actor Dane Witherspoon from 1986-1988.