NEWS
Rocco DiSpirito's Hot Dog Love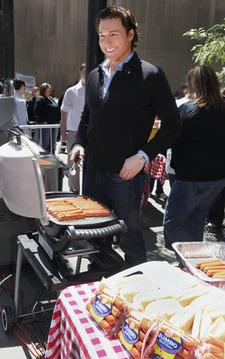 Celebrity chef Rocco DiSpirito has mastered the art of exquisite cooking but his favorite dish for the summer is anything but refined. Anyone can make it, and all you need is a couple ingredients!
"My secret indulgence is the corner hotdog cart with onions, Rocco told OK! in Times Square on May 19 where he was grilling hotdogs and handing them out to New Yorkers to kickoff Oscar Meyers commitment to donate $100,000 worth of hot dogs to Feeding America throughout the summer. "Even though I'm a big fancy chef, I can appreciate a good hotdog."
Article continues below advertisement
However, the simplest meals still require skills. So we asked the former Dancing With the Stars contestant and Top Chef judge to share his expertise on summer cooking, staying in shape and tips on perfecting summer's most popular dish the hotdog!
OK!: With all these hotdogs, how do you stay in shape in the summer?
I'm a triathlete so I'm lucky that I have that in my life. It definitely keeps me in shape or else Id be a pig fat pig. My next triathlon is in November. It's Ironman 70.3 in Clearwater, Florida.
OK!: Do you still keep up the dancing skills you learned on DWTS?
Laughs You call what I did dancing? I love dancing. Ive always loved dancing. I need Karina to come back in my life and help me finish learning how to dance.
OK!: Why is Feeding America important to you?
Feeding people is what I do for a living whether they can pay for it or not doesn't matter to me. It's a really bad time for people who rely on food pantries or food banks. The amount of food going to those food banks is at an all time low and the demand is at an all-time high.
Article continues below advertisement
Rocco's Perfect Hot Dog Tips:
1. Grill it till it gets brown.
2. Dont let it burst
3. Give people a wide array of ingredients to chose from so they can personalize it.
4. Warm the bun. Very important!
Summer Cooking Must-Haves:
1. A charcoal grill.
2. A great house cocktail. (One of Rocco's favorites is pomegranate and prosecco.)
3. Lots of ice.
4. Baked good.
5. Nice cold beer for sure. (Rocco likes a pilsner).