NEWS
The Rock & Obama: Totally Buds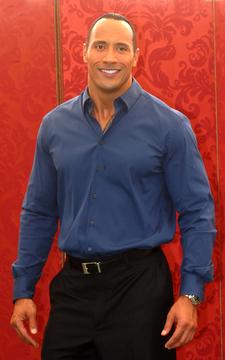 It seems The Rock (aka Dwayne Johnson) wasn't just doing a bit this past weekend on Saturday Night Live when he played Barack Obama in the sketch, "The Rock Obama," in which Fred Armisen gets angry as the President and turns into The Rock's version of Obama.
So it's no surprise that Dwayne wouldn't mind having the Commander-in-Chief play him in a biopic!
"Barack Obama," he tells Moviefone with a laugh in a new interview when asked who he'd like to have play him in a biopic. "I hear that we sound alike all the time. You know I've gotten to know him, and he's a big time athlete, and loves athletics, so I'm sure he could bulk up. All the comparisons have been such an honor -- how cool! We make a hell of a pair."
Article continues below advertisement
These two unlikely pals share more than similar voices, they've even chatted each other up in the past.
"We had an opportunity to talk before the election," says Dwayne. "We talked about everything from our roots in Hawaii, our family and the importance of great leadership for our country, which is certainly one of the many things he provides. And he did tell me that I was one of Michelle Obama's favorite actors."
MORE ON:
Saturday Night Live
Check out The Rock's impersonation of a big tough Barack below: