NEWS
Rock Star Defends David Cook From Furious Fans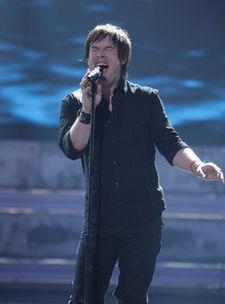 David Cook is gaining a reputation as the most "inspired" contestant on American Idol. In fact, in the past three weeks his performances have been so heavily "inspired" by other musicians' arrangements that it has left some people fuming.
Fans of Incubus were up in arms when he didn't credit the band when he used their version of Hello by Lionel Richie and Seattle rockers Doxology slammed him for ripping off their take on the Beatles's Eleanor Rigby (though they took it back when they found out he name-checked them, but it was cut from the show).
Article continues below advertisement
This week fans of ex-Soundgarden frontman Chris Cornell were furious when the judges praised the 25-year-old for the "originality" of his version of Billy Jean by Michael Jackson -- a version that appear on Cornell's 2007 solo album, Carry On.
Idol host Ryan Seacrest had introduced the song as Cornell's arrangement of the Jackson smash, but his fans said that when Simon, Paula and Randy started congratulating David for 'his' version, he should have set them straight.
But Cornell has defended David, from Blue Springs, MO, from his outraged fans, telling EW.com that he was flattered by David's faithful rendition of his cover.
"It was clear to me that he was a big fan as he followed my arrangement down to the T, including the most subtle vocal nuances," said Cornell. "I think he did a great job at pulling it off."