NEWS
Rod Blagojevich Staying Put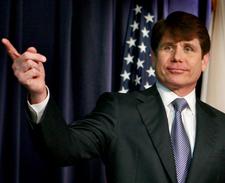 Former Illinois Gov. Rod Blagojevich is just going to have to stay put for the time being: A federal judge ruled today that he can't go to Costa Rica to participate in the new reality show, I'm A Celebrity, Get Me Out of Here, reports the Chicago Sun-Times.
The judge says he does not "have confidence" that Rod would stay in line with his bond conditions. It's a big "no" on the reality show.
"It's way too soon. I don't think this defendant in all honesty ... fully understands the position he finds himself in,'' said U.S. District Judge James Zagel in denying the bid. "I do not have confidence that things will not go astray if I modify bond conditions.''
Article continues below advertisement
The strong "no" came even after NBC offered to hire two court-appointed security guards to keep an eye on Rod for the duration of the show.
Rod had signed on to help his family, saying earlier, "I have to do it for my kids. I have to support my family.'' He could made up to $80,000 per episode on the show.