NEWS
Roker Slams Speidi... Again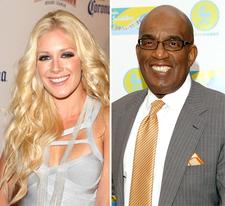 Yesterday, when The Today Show's Al Roker dared to ask reality TV loudmouths Spencer Pratt and Heidi Montag some honest questions about their bratty behavior on the set of I'm a Celebrity... Get Me Out of Here, it was unlikely that the TV vet had any intention of making the newlyweds any more famous than they already are. But both the interview — and Speidi's comments about it afterward — have pushed the reality stars even further into the spotlight.
Article continues below advertisement
On this morning's edition of Today, Al defended himself against the allegations that he "persecuted" Spence and Heidi by not lobbing softball questions at them.
"I believe I asked what a lot people wanted to know," Al told co-host Meredith Vieira. And as for Spencer's statement that it was only by the grace of God that he didn't physically attack the Today host, Roker commented, "If he had tried to come across, I would have dropped him like a bag of dirt."
Regarding Heidi's charge that Al has a problem with women, he countered, "I've interviewed hundreds of women; never had a complaint... They are so unused to people actually asking them a real question. They don't know how to handle it."
In the end, Roker seemed dumbfounded that two people of such meager accomplishments could cause such a stink. "There are a lot of celebrities who come on the show," he said by comparison. "Who've actually done something, who act civil."