NEWS
Is Romance Brewing Between Adam Brody & Dianna Agron?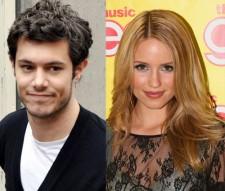 Looks like there's a new hot TV star couple on the rise after Adam Brody and Gleeactress Dianna Agron were spotted getting cozy together in Long Island today.
"They were really in there quite some time," a witness inside the Starbucks in sleepy Greenport, N.Y., where the pair bonded over some coffee.
"I figured it would just be an in-and-out visit," said the witness. "But they settled in to chat for nearly an hour."
Article continues below advertisement
The pair eventually left the coffee shop and handed back to a nearby hotel, where Adam is staying while shooting The Romantics with Katie Holmes. "They were smiling all the time and seemed in a great mood," said one Greenporter who spotted them together.
As first reported on JustJared.com, on Thursday, Diana expressed excitement over her trip out to the far eastern tip of Long Island.
"On the jitney," she Tweeted, referencing the buses that carry Manhattanites out to the Hamptons. "Excited for this next little adventure." And then, around midnight, she added, simply, "Amazing day."