NEWS
Romeo Dishes to OK!: My Dream Date Is Vanessa Hudgens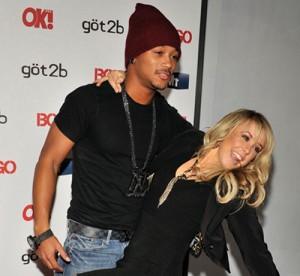 Dancing With the Stars contestant Romeo Miller and his pro partner Chelsie Hightower danced down the red carpet and brought high energy to OK!'s annual Sexy Singles bash last night in L.A. Romeo and Chelsie chatted with OK! and dished about what they find attractive in a significant other and their Hollywood dream dates.
The singer — a sexy single himself — shared with OK! that he is looking for a woman with brains!
Article continues below advertisement
"I think a sexy woman has brains, when you can have a conversation with her," he said. "Looks go, but when you can talk to somebody, that's sexy."
So what Hollywood sexy single would Romeo and Chelsie each like to take on a date?
"Vanessa Hudgens," he gushed.
"Romeo Miller," Chelsie responded.
Romeo also shared his idea of the perfect date, one he would like to go on with Vanessa.
"A romantic brunch on the beach, and then Disneyland," he said. "I'm a kid at heart. I just love to ride some rides."
Romeo loves Disney so much that he and Chelsie go there whenever they have free time.
The duo went earlier this week and made sure to go on Romeo's favorite, the Tower of Terror.
"We've gone 10 times in a row," Chelsie said. "For my sexiest date, it doesn't matter what I do as long as I'm with someone I love."
Article continues below advertisement
Romeo seems to know a thing or two about romance. He said that thanks to his parents, he's always able to be honest about his relationships.
"I'll tell you how this generation hears about the birds and the bees: YouTube," he said. "I had a great relationship with my parents, so my dad and I were about to have that talk. It's really important that kids can talk to their parents."
When asked who their favorite American Idol hopeful is, Romeo shared, "You know I liked Pia Toscano, but she was kicked off. I used to see her in the halls."
Chelsie answered honestly that she really doesn't watch the show, but heard Pia was good from her fellow DWTS pro, Mark Ballas (who is allegedly dating the recent Idol castoff).
"I kept running into her backstage and I tried to 'holla' at her," Romeo quipped.
Looks like Mark beat him to it!
Reporting By Amanda Champagne