NEWS
Rose Byrne Cuts a Bang, Talks 'Bridesmaids'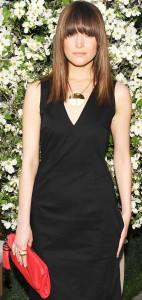 Rose Byrne shows off a stylish bang at the Derek Lam + eBay Collection launch held Tuesday at the Derek Lam store in NYC.
"Oh, I've wanted them for awhile," the actress, who is wearing the cotton poplin shift, tells me of the cut she's had since February. "My hairdresser, Harry, finally said I could, so we cut them meticulously. I'm enjoying them. It's fun, and you feel very 60s and 70s. It's good to change it up. I like to change."
Article continues below advertisement
The Damages star, 31, had no fear when it comes to chopping her locks.
"I was ready. I'd been wanting them for two years, and Harry was like 'nuttuh, nuttuh, nuttuh, nuttuh, not yet.' Finally we agreed and did it."
When she chopped her bangs, Rose explored new territory, and that curiosity was valuable when she played a bridesmaid in Bridesmaids, which hits theaters Friday.
"I've never been a bridesmaid before, so I had to do quite a bit of research because I play quite a forceful bridesmaid in the film. I talked to all my friends who had been bridesmaids, and all the girls in the movie who had been bridesmaids, and I went online and watched a bunch of reality shows, just to get a general sense of what can happen."
One lesson Rose learned is that people pile on serious pressure when it comes to a wedding.
"People hiring private planes and private islands, and expecting people to pay to show up for the bachelorette party," she says of bridesmaid horror stories. "Things like that are pretty flamboyant and pretty extreme."
What was it like working with Kristen Wiig?
"Wonderful," she says. "I was a huge fan of hers before we worked together, so it was a real honor, and she's the smartest, kindest, funniest lady. I think that she's a force to be reckoned with. She's so smart and talented, and I think she's paving the way, along with Tina Fey. She's a great writer and great talent."