NEWS
Roseanne Bar Says She is "Running For President" Under the "Green Tea Party"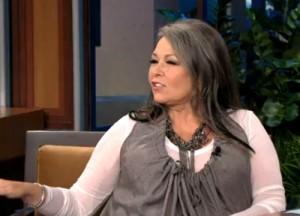 Roseanne Barr made a pretty big announcement Thursday on The Tonight Show With Jay Leno — she's is running for president!
"I am running for President of the United States," the comedienne declared, adding, "I'm totally serious, cause I want to be part of the debates, because I want to represent the taxpayer."
"In fact, I'm choosing the taxpayers as my vice president."
Article continues below advertisement
Roseanne said she found a source of inspiration in former Vice Presidential candidate and governor of Alaska, Sarah Palin.
"That's kinda what got me to thinking that I too should run for president, if she can," the 58-year-old actress explained.
But don't expect her to declare her allegiance to either the Democrat or Republican party.
"I'm not for either party because they both suck and they're both a bunch of criminals ... so I made up my own party, it's America's Green Tea Party."
What exactly is her platform? Rid Americans of all taxes, overlook student loans, eliminate the exchange of money and legalize marijuana!
"Everything will be based on barter and growing and eating vegetables," she quipped to the roar of the audience.
Roseanne was on the Tonight Show to promote her new reality show Roseanne's Nuts which airs on Lifetime Wednesday at 9 p.m.!
Watch her discuss her presidential platform in the clip below!