NEWS
Rosie Huntington-Whiteley Reigns in Maxim's Hot 100 List, Kate Middleton Ranks Top 30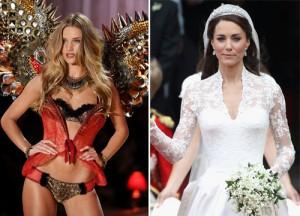 She is a Victoria's Secret angel and a big- screen siren, so it should come as no surprise that Rosie Huntington-Whiteley — who is replacing Megan Fox in the Transformers franchise — is the woman Maxim magazine chose for the number-one spot in its annual, hotly anticipated Hot 100 list.
"It's a great title to have for a year, and you can have some fun with it, I think," Rosie told Maxim of the honor.
Article continues below advertisement
And the annual list ranges from swimsuit models to royalty as the newly crowned duchess of Cambridge, Kate Middleton, ranks as No. 26, trumping Colombian bombshell Sofia Vergara (No. 29) and veteran of the Maxim Hot 100 list Kim Kardashian (No. 35).
Catch the top 10 below. For the complete list, visit Maxim.com!
1. Rosie Huntington-Whiteley
2. Olivia Munn
3. Katy Perry
4. Cameron Diaz
5. Mila Kunis
6. Bar Refaeli
7. Anne Hathaway
8. Natalie Portman
9. Cobie Smulders
10. Jennifer Lawrence