NEWS
Rosie O'Donnell: Lindsay Lohan "Not Capable" Of Playing Elizabeth Taylor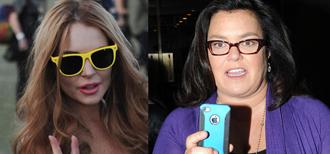 Article continues below advertisement
"I feel very sorry for her. I think she needs a lot of help," Rosie said. "She needs time away. I don't think she's right for the role, and I don't think she's capable at this point of doing what's needed to portray that character."
OK! NEWS: LINDSAY LOHAN WILL PLAY ELIZABETH TAYLOR IN LIFETIME MOVIE LIZ AND DICK
Rosie sniped that Lindsay wasn't a good SNL host and that she hasn't lived up to expectations in anything recently. Donny, on the flipside, thought the casting was perfect — even going so far as to call Lindsay this generation's Elizabeth Taylor.
"You're out of your mind," Rosie fired back, saying that Lindsay hasn't acted well since she was 16. "You're a crackhead."
While both Star and Donny seemed to think Lindsay's "trainwreck" persona would attract viewers to the TV film, Rosie felt that casting Lindsay wouldn't arouse enough interest.
Do you think Lindsay is a good fit to play Elizabeth Taylor?
Visit msnbc.com for breaking news, world news, and news about the economy