NEWS
Rosie O'Donnell Returns to TV With Her New Crush Russell Brand & Talks Protesting Naked!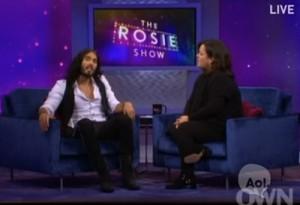 Rosie O'Donnell made her return to TV last night on her new talk show, The Rosie Show, on Oprah Winfrey's network OWN and welcomed a very special first guest — her new crush, Russell Brand!
OK! NEWS: ROSIE O'DONNELL ON MEETING HER NEW GIRLFRIEND — "MY GAYDAR WAS WAY OFF"
Tom Cruise is out! Rosie has a new star to love.
"Tom knows, I sent him a little text," Rosie explained in an interview with Nightline. "I said, 'Tommy, I will always love ya. Move over, Russell Brand is in."
Article continues below advertisement
And Rosie had the pleasure of interviewing the comedian as her first guest on her live show.
Making sure to make it a memorable evening for her, Russell shared a story with Rosie about a time he was protesting capitalism — naked.
"It was actually just a very classical nude form on what I'd like to say was a very cold day," he said.
But Russell was arrested for indecent exposure.
The actor explained, "Capitalism succeeded, my naked body failed."