NEWS
Rosie O'Donnell Saves Broadway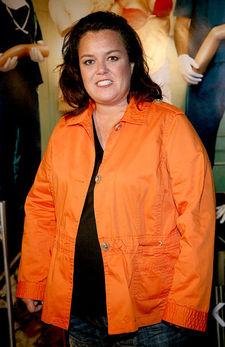 Rosie O'Donnell struts into Madame Tussaud's New York determined to save the day during the kickoff for the annual Kids' Night on Broadway held Tuesday.
The kind-hearted former View host arrives at 2:50 p.m., and the talented teens break into their rendition of Chicago's Broadway Baby.
"If you get kids to a Broadway show before they hit puberty, you've got them for life," the mom of four, 46, says. "Afterwards, they're a little jaded."
Article continues below advertisement
The Kids' Advisory Board gets private time with Ms. O'Donnell, and they brainstorm about how to fill the seats. With this program, youngsters ages 6-18 get to see Broadway shows for free with each full-price adult admission on March 3-4.
"We had an amazing lunch and they gave me great ideas about how to improve the theater-going experience for children," Rosie continues. "One of the ideas I thought was funny was to get the choreographer of each musical at each intermission to teach the kids in the audience the dances from the show."
MORE ON:
Red Carpet Confidential
For her finale, she prances around with a huge Playbill.
"Playbill's an amazing, amazing organization," she says. "You get a free one every time you see a show!"
Before heading upstairs, she talks about her style inspirations. "I wish I had a fashion look for you," she yuks. "I have so many gay male friends I should have a fashion look."