NEWS
Rosie O'Donnell Struggles with Being Single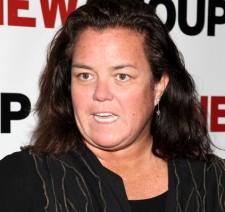 After revealing that she and former partner Kelli Carpenter have been separated for two years, Rosie O'Donnell is finally talking about the split she's kept under wraps for so long.
When asked last night how she's enjoying the single life at Rosie's Broadway Extravaganza in NYC last night, the former talk show host admitted, "I'm not. But you know. On we grow, so to speak."
So, what kind of person should the outspoken personality date next? "I don't think she's probably ready," says comedian and long-time friend, Judy Gold, who performed in the benefit concert. "You have that marriage, you have the kids — it's a long process. I have no idea."
Article continues below advertisement
Judy reflects on the Rosie's reasons for waiting to discuss the split: "I think it's her choice and I think she has kids... I think she's entitled to her private life, and that's what it is — private. I think it's great that she's in the driver's seat here."
During a discussion with pet psychic Sonya Fitzpatrick about her long-haired chihuahua Misty, on her Sirius satellite show Nov. 13, Rosie, 47, revealed that her wife Kelli, 42, had left.
"What happened was when Kelli moved out two years ago, I got the dog," she said. "Because I wanted another child or something to love. And I got the dog."
Despite the turmoil in her private life, Rosie is determined that her kids — Parker, 15, Chelsea, 12, Blake, 9, and Vivienne, 10 — remain unaffected this holiday season and that means keeping the family traditions.
"We have a bunch. The biggest one is matching pajamas on Christmas morning. We've done that since they were born," says Rosie of their yearly rituals.
Article continues below advertisement
"This year, it's getting hard to convince the 15-year-old to put on matching pajamas, so he made a vote for those solid red ones with the heiny flap. You know those all-in-one? That's the funnest one."
And the former The View co-host may be larger than life, but you won't see her on the holiday party circuit. "I'm not really a party thrower," she says. "I'm very boring and nerdy, and you'd be surprised."
Meanwhile, Rosie is relying on her family and dogs to get her through any tough times. "I love animals," she says, "I think they're really important for people to connect to somebody that's not going to be able to respond to you, and just adore you — providing that you give it food. That's not too much responsibility."