NEWS
Royal Engagement Photos: Prince William & Kate Middleton Pose With a Purpose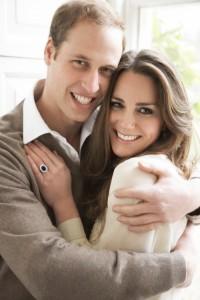 Gorgeous engagement photos of Prince William and Kate Middleton were released by the Clarence House Press Office this weekend! The recently engaged royal couple posed in the Cornwall Room in St. James's Palace in London, England for the beautiful shots taken by noted fashion photographer Mario Testino — who was also one of Princess Diana's favorite photographers.
The photographs were taken on Nov. 25 and Mario said, (via OverTheLimit) that the couple was "in their prime, brimming with happiness. I have never felt so much joy as when I see them together."
Article continues below advertisement
Two different portraits have been released.
A more formal shot shows the couple in Buckingham palaces Council Chamber, with pictures of William's royal ancestors visible in the background.
The portrait shows the couple in an embrace, with Kate's stunning engagement ring — 18-carat oval sapphire surrounded by diamonds that belonged to his mother — placed on William's shoulder.
Mario is no stranger to Buckingham palaces. The photographer has taken many pictures for the royal family, including Prince William's 21st and Prince Harry's 20th birthday pictures.
He also will be the family's in-house Christmas photographer upon request of Prince Charles.
The happy couple will marry in April 29, 2011, at Westminster Abbey!