NEWS
Rufus Sewell "Happy" About Tony Nod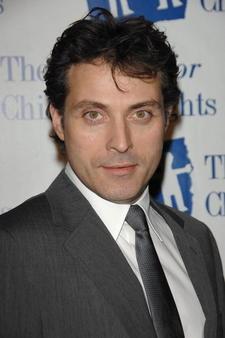 Good things come to those who wait – and Rufus Sewell definitely knows what that means now.
The Brit , who plays Alexander Hamilton in the John Adams miniseries, just earned a Tony nomination for his role in Rock 'n' Roll, a recognition he certainly wasn't expecting given how long ago the play was.
"It was a while ago so I'm really happy to be remembered because your chances of being nominated get slimmer the much further away it is," he tells OK!.
Article continues below advertisement
However, Rufus had to delay his gratification as he was in an airport when he sort of learned of the news.
"I got off the plane and I got a text congratulating me and I didn't know what for," he says. "I was trying to find out what for and security at immigration shouted at me to turn my phone off. So I had to wait an hour and a half to find out what for, but it was very special to find out in New York."
The Brit is also happy these days for his long-time pal and expectant mom Minnie Driver. The actress is pregnant with her first child, due later this year, and Rufus is thrilled for her.
"I send her messages," he says.
By Delaina Dixon