NEWS
Rumer Scouts 'From Within'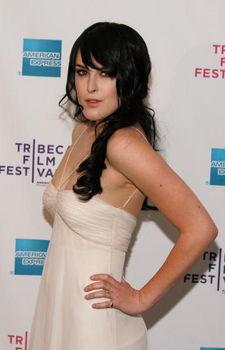 Questions about her family and personal life are off-limits at the Tribeca Film Festival premiere of the Rumer Willis thriller From Within. Only questions about fashion and film will be permitted less than 24 hours after the spawn of Demi Moore and Bruce Willis enjoyed a night out with Gossip Girl's Chace Crawford. (This is always the policy when there's a scandal brewing.)
Rumer's white Stella McCartney dress is drooping on the concrete as reporters pepper her with fashion questions. She's very media-savvy.
Article continues below advertisement
How does she choose her roles?
"I don't discriminate whether it's a big studio movie or an indie, but what I look for are finding characters that will either push me outside of my comfort zone and challenge me or do things that I want to explore."
While shooting in Maryland, Rumer, 19, and her co-stars liked to hit the local Applebees. "The scene at Applebees is hoppin', man," she says. "We had a great time. In Aberdeen, Maryland, there's not too many things to do. I like to order chicken fingers and french fries."
Last question. What does she make of the Chace Crawford romance rumors? "Huh?" she says, as her rep shoos her away.
Here comes dad Bruce with his girlfriend. "I'm very excited for her," she says. "I'm a big fan."
No wonder Rumer's sensitive about her famous family.
"You can't help but notice her similarities to her parents," director Phedon Papamichael tells me. "Sometimes she sounds or looks like Demi, sometimes she's like Bruce. I try not to think in those boxes. She'll find her own identity I'm sure."
From Within is in theaters August 29.
Pick up the OK! on newsstands now for more coverage of the Tribeca Film Festival.