NEWS
Rumor Mill: Friends Reunion in the Works?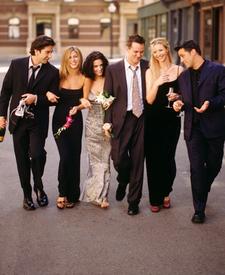 It looks like the success of the recent big-screen version of Sex and the City has gotten the rumor mill turning about almost every formerly huge TV show. The latest blast from the past alleged to be making the leap to the silver screen is none other than '90s sitcom phenomenon Friends — if you believe London's Daily Mail.
According to a report in the British tabloid, all six stars — including Jennifer Aniston — of the hit NBC comedy are eager to reprise their roles in a feature film adaptation that would be released "within the next 18 month."
Article continues below advertisement
However, studio insiders tell OK! this is all just wishful thinking.
"There's no way Jen, or really any of the others, would want to do this," explains one exec. "They've all spent the last four years trying to distance themselves from these iconic characters, this would be seen as just a crass cash-in."
And, points out another source, the Friends scenario just isn't fit for the big screen.
"With SATC, those were always lifelike, dramatic characters that you could envision in a feature-length film," explains the insider. "But Friends exists in that sitcom world where 23 minutes is exactly about how long you can stand these people for at a time."