NEWS
Rumor Mill: Jen & Orlando Heat Things Up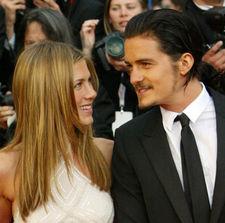 Celebrities really need to get out more. The latest evidence to prove this theory: the brewing lust triangle between , ... and .
To begin with, sources close to Jen and Orlando have confirmed to OK! that the pair recently got "very friendly" during a wedding for a mutual friend in Mexico.
"There was definitely some chemistry going on when I saw the two of them on the beach,"? an eyewitness tells OK!. ?"They were talking and talking, for hours on end.?"
Article continues below advertisement
While in Mexico — historically Jen's favorite spot to bring beaus like and — the former Friend showed off her finely toned bikini bod, much to the delight of fellow tourist Orlando.
However, Jen might have a contender for the Lord of the Rings star's heart. According to witnesses at NYC's Bowery Hotel, Orlando spent Tuesday evening hanging out with none other than Cameron Diaz.
While this sighting is unconfirmed, if it's true, that would throw yet one more wrench into the works, as Cameron has recently been seen enjoying the company of actor , who — you probably already guessed this — was linked this summer to his He's Just Not That Into You co-star Jen Aniston.
For all the details on the Jen/Orlando fun in the sun, pick up the new issue of OK! — on sale everywhere Thursday.