NEWS
Rupert Grint: Emma Watson Kiss Was "Tricky" in 'Harry Potter and the Deathly Hallows Part 2'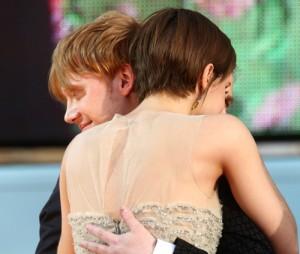 Everyone cannot wait to see the hotly-anticipated kiss between Emma Watson and Rupert Grint in Harry Potter and the Deathly Hallows Part 2. Luckily, Rupert has been very open about what is was like to finally have a full-on snog with Emma on screen!
"Yeha, that was quite tricky wasn't it, to do," he told reporters at the NYC premiere of the final installment of the Potter franchise.
Article continues below advertisement
Earlier this month, Rupert told Attitude magazine that his kiss with Emma was "full-on, a proper snog."
"We're soaking wet as well – they dumped gallons of water on us and then we just went for it. We laughed a lot and it took us a while to concentrate."
He said the whole experience of Harry Potter coming to an end has been very "emotional."