NEWS
Rupert Grint on Harry Potter Pals Emma Watson & Daniel Radcliffe: "We'll Always Stay in Touch"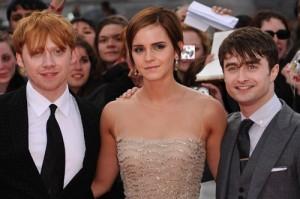 Rupert Grint has been working alongside Emma Watson and Daniel Radcliffe for over half of his life on Harry Potter, but he's trying to keep a positive attitude about finally being done filming together. Their work relationship may be over, but their personal relationship is not!
OK! GALLERY: PREMIERE OF HARRY POTTER AND THE DEATHLY HALLOWS - PART TWO PROVES WORTHY OF THE WAIT
In a new interview with Parade.com, the 22-year-old actor admits it will be hard to say goodbye to his character, Ron Weasley, now that the final Harry Potter and the Deathly Hallows - Part 2 has arrived.
Article continues below advertisement
"It's been a decade of playing the same person and a character I already felt quite close to anyway because of the book," he says. "We really have become the same person. I think it's going to be hard to shake him out of me."
And shooting the final film was very emotional — especially one scene in particular.
"The scene after the battle, with the three of us on the bridge," he shares. "It's the moment that kind of chokes me up the most. It is just that power between me, Dan, and Emma. Every day, every week, every month, every year, we've come together and made these films quite intensely."