NEWS
Russell Armstrong's Friend on Finding His Body: "His Door Was Locked"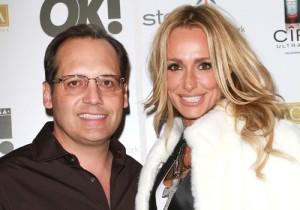 Article continues below advertisement
"I had not heard from Russell since last Friday so I went to his place where he was staying together with Taylor," Francisco explains. "I met her over there at the place. His roommate basically let us in and Taylor was outside waiting and we got into the house from a back window that was open because his door was locked. And we found his body there. That's basically what happened."
Russell was found hanging in the bedroom on Monday night of apparent suicide. The Real Housewives of Beverly Hills star was 47 years old.
"He was a great a person, a very quiet person and that's why he was probably sometimes misunderstood for somebody who - he was just very, very nice, very generous, very kind person and he had a very good sense of humor too," he says. "Most people would have never known that."
OK! NEWS: RUSSELL ARMSTRONG SHOULD BE "EDITED OUT" OF REAL HOUSEWIVES OF BEVERLY HILLS, NEPHEW SAYS
And some viewers of The Real Housewives of Beverly Hills may think of him as cold, but Francisco insists that was not Russell.
Article continues below advertisement
"He was not cold," he tells OK!. "He was everything but cold and as I said, just a very good friend and that's all I can say."
As for Taylor, Francisco says she is in mourning.
"She has a very, very large and good friend supportive system. A lot of friends, good friends are just there for all this time and she has a fantastic support system in place," he explains to OK!. "She's devastated. She's devastated and just mourning right now. She's not talking to the media at this time, which I think is a good thing. She's taking one day at a time."
"The bottom line is they both loved each other and there is nothing that speaks against that."
Reporting By Laura Lane