NEWS
Russell Armstrong's Lawyer Speaks on 'Today': "He Was Under a Lot of Financial Pressure"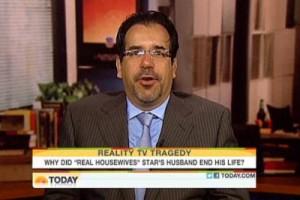 Russell Armstrong, husband of The Real Housewives of Beverly Hills star Taylor Armstrong, tragically died of apparent suicide on Monday night and now his lawyer is speaking out. Ronald Richards appeared on the Today show this morning to discuss exactly what kind of pressure Russell was under before his death.
OK! NEWS: TAYLOR ARMSTRONG "DEVASTATED" OVER LOSS OF RUSSELL ARMSTRONG & SEEKS PRIVACY
Russell, 47, was found in a bedroom of his friend's home on Monday night leaving behind his wife Taylor, their 5-year-old daughter Kennedy and two sons from a previous marriage.
Article continues below advertisement
"There was a combination of things," Ronald Richards, Russell's attorney explained on the Today show of why he might have taken his own life. "I think he spent his entire marriage building up his wife to this sort of crescendo of success and then all of the sudden at the apex of this all, she files for divorce and he's sort of felt left out financing the show through her, but not getting any of the future benefits; and I think it hurt him."
"How much financial pressure was he under?" Matt Lauer asked.
"He was under a lot of financial pressure. Because he spent so much time getting distracted from reports about what was going to be coming on the show, he ended up spending a lot more than he made every month and didn't have any savings left," Ronald said. "And it became a very big burden on him to keep this all going."
"What did he tell you about the show itself?" Matt asked about starring on Bravo's The Real Housewives of Beverly Hills.
Article continues below advertisement