NEWS
Russell Armstrong's Mom to Bravo: "Don't Kill My Son Twice"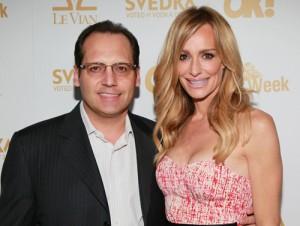 Russell Armstrong's mom is not happy about the suicide special Bravo plans to run prior to the Season 2 premiere of The Real Housewives of Beverly Hills. John Ann Hotchkiss spoke out on the matter, and it's clear she places some of the blame on her late son's involvement with the reality show.
"When I first heard of the suicide special I thought, I hope Bravo takes the high road and keep it tasteful," she said in a statement to HLN's Jane Velez-Mitchell on Wednesday, via Radar Online.
Article continues below advertisement
"Let's not murder my son twice," she added firmly.
OK! NEWS: REAL HOUSEWIVES OF BEVERLY HILLS PREMIERE STILL SEPT. 5 DESPITE RUSSELL ARMSTRONG'S DEATH
Camille Grammer, Adrienne Maloof, Kyle and Kim Richards and Lisa Vanderpump appeared without talking points, without prompts and without their grieving co-star Taylor Armstrong to tape the brief interview that will air before the Season 2 premiere.
Hotchkiss has been very vocal about her son's suicide, placing the blame on his involvement with RHOBH.
"I watched it slowly destroy their marriage," she said in a previous interview on HLN.
"Before the new season even started, before he took his life, he said, 'Mom, they're just going to crucify me this season,' " Hotchkiss explained. "He said, 'I don't know what to do. I'll never survive it.' I thought he meant businesswise or something," Hotchkiss said. "Perhaps there was a double meaning there. I don't know."
Russell was found hanged at an L.A. home on August 15. He was only 47.
OK! NEWS: RUSSELL ARMSTRONG'S MOTHER SPEAKS OUT — REAL HOUSEWIVES CRITICS "HURT HIM DEEPLY"
Bravo confirmed in a statement yesterday that RHOBH Season 2 will still premiere on Bravo on Sept. 5 at at 9 p.m.
"Bravo will proceed with the Monday, September 5 premiere date of The Real Housewives of Beverly Hills," Frances Berwick, President, Bravo Media said. "Given that these episodes were filmed months ago, the producers of the show taped a brief interview this week with several of the cast members to introduce the premiere. Re-editing of the episodes is still underway."