NEWS
Russell Brand: I'll Date Britney!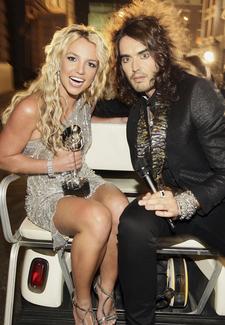 Rumor has it that Britney Spears is now on the lookout for a suitable red carpet escort, with manager Larry Rudolph and father Jamie Spears giving her a helping hand to find the right guy. Reports have linked her with possible dates like Benji Madden, Michael Phelps and Jesse Metcalfe.
Attention, Brit! Someone else wants to be in the running!
"She's looking for a boyfriend now?" Russell Brand exclaimed at last night's L.A. premiere of Bedtime Stores, after hearing the "Womanizer" singer was on the market again.
Article continues below advertisement
"I'm going now! Is she here? I'm just gonna be quick," he joked to reporters as he pretended to run off the red carpet. "There's not a moment to lose!"
CLICK HERE for OK!'s Ultimate Britney gallery!
The two had a fun chemistry during the lead-up to MTV's VMAs this year, filming a series of hilarious TV spots in preparation for the awards. After all, the British comedian did want to make sure Britney knew his last name, as he said to her in one spot, "You will remember that name because I think pretty soon that's gonna be your surname. Britney Brand."
"Oh, gosh!" Brit replied with a giggle.