NEWS
Russell Brand is Smitten with "Lovely" Katy Perry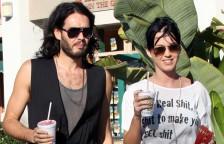 Bad-boy actor and comedian Russell Brand is a reformed man, thanks to his new relationship with "I Kissed A Girl" singer Katy Perry.
"She's lovely and I don't want her to read anything about herself," he tells the UK's Sunday Times Magazine.
The outspoken VMA host, 34, whose movie Get Him to the Greek is out next year, has learned to stay mum on his own personal life.
"The other day a journalist from a tabloid in a ludicrous fedora said to me, 'Russell, are you in love with Katy?' And I said, 'You look like a character from a Graham Greene novel. I think I'm in love with you'."
Article continues below advertisement
"I said that to defuse the situation. But what do they print? They print, 'I think I am in love'."
But the British-born womanizer admits that 25-year-old Katy, has changed him.
"I am living in a different way at the moment. Regardless of what happens in my current situation, I am unlikely to be satisfied with the calamitous promiscuity of the preceding five or six years."